Revitol Acnezine Cream – A Review
|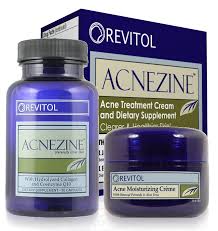 This Revitol acnezine review has been written after intensive research on the product. The ingredients present in it are natural and laden with antioxidants. This is perhaps the reason why this acne cream works from within the layers of skin and removes the free radicals prompting breakouts every now and then. It also implies that it is capable of halting more acne from forming.
The treatment with this cream makes the skin free of all the other issues that creep up along with acne such as inflammation, pus, blemishes, etc. The price of the cream may be slightly higher than the other creams, but since you don't have to use much (a small amount is enough), the cream actually lasts long…really long. For this reason alone, the cost shouldn't be a crunch. Revitol acnezine cream makes skin clearer and in no time.
Does it help reduce redness and soreness?
Revitol acnezine cream comes with a moisturizer that helps you reduce dryness from your skin. Besides, the moisturizer removes the excess oil from the skin which is certainly the main cause of acne. When the oil drains away from your skin and dryness goes away, the redness and soreness reduce instantly.
What does Revitol acnezine acne cream contain?
The main ingredients of Lucent Skin acnezine are Benzoyl Peroxide 5%, Allantoin, Aloe Barbadensis (Organic Aloe Vera) Leaf Juice, Benzyl Alcohol, Betula Alba (Birch) Leaf Extract, Camellia Sinensis (Green Tea) Leaf Extract, Carbomer, Citrus Aurantium Dulcis (Orange/Neroli) Fruit Extract, Citrus Medica Limonum (Lemon) Peel Oil, DMDM Hydantoin, Fragrance (Parfum), Glycerin, Hamamelis Virginiana (Witch Hazel), Honey, Iodopropynyl Butylcarbamate, Melaleuca Alternifolia (Tea Tree) Leaf Oil, Methylpropanediol, Salix Alba (Willow) Bark Extract, Salvia Officinalis (Sage) Leaf Extract, Sodium Citrate, Sodium Hyaluronate, Sodium Hydroxide, Sugar Cane Extract, Vaccinium Myrtillus (Bilberry) Extract, Water (Aqua), Xanthan Gum.
Does Revitol Acnezine have any side effects?
The results of revitol acnezine cream work according to the skin type and depending on the skin of the individual, the product shows side effects. Well, the product is made of all-natural ingredients, so no serious side-effects of it have been established, but if it reacts negatively on your skin, you must stop using it.
Apart from this, the product is entirely safe for all skin type. However, you must check its ingredients to make sure if you are not allergic to any of it.
Quicken acne treatment with Acnezine
Safe

Effective

Quick healing

Effect on scars
My Feedback
Revitol acnezine cream is one of the best topical treatments I have used, ever. Since my skin is oily, nothing really worked on it. In fact they made my skin even more inflamed. I must say that it has cleared up my skin to a significant level. Believe me, after using so many creams, I was totally dismayed but this one gave me hope right from the very first day of its use.
The results were seen really quick. Though the skin did turn a bit flaky around the area surrounding the acne, but it soon subsided as against the previous cream which dried my skin terribly.
With Revitol acnezine cream, I also received a bottle of pills. I ate them for a month. I believe the combination of the two worked really well. The initial results forced me to order the pills for the second month and not the cream, there was a lot of it left as only a small amount is sufficient. The best thing about it is that it can be used without a doctors' prescription. If it can work on my skin, it surely will be a game for you as well.