Natural Body Defense Anti-inflammatory Review
|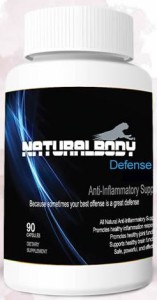 Natural body defense is one of the most powerful natural anti-inflammatory products. It is the latest breakthrough in health care products and has been quite popular among users. Natural Body Defense Anti-Inflammatory support gives the body its natural defense against inflammation. There are many reasons that weaken the natural defense system of a human body like sedentary lifestyle, increasing age and imbalanced diet. This increases the need for supplements and Natural Defense as a food supplement prevents inflammation caused by physical activities, diseases or aging.
The inflammation level of the body should be maintained properly to perform normal daily routines and Natural Body Defense is the most powerful anti-inflammatory product in that case. Post exercise, inflammation is quite common among most athletes. They need a product like Natural Body Defense to prevent chronic condition. The review of Natural Body Defense Anti-inflammatory given by athletes have considered it as the best anti-inflammatory product.
Know Natural Body defense Claims here
The manufacturers claim that Natural Body Defense anti-inflammatory supplements help the body to regulate its own defense mechanism to healthy inflammation level in the body.
A review of Natural Body Defense Ingredients
Natural body defense is effective in decreasing inflammation, because of the natural ingredients present in it. It contains a combination of anti-oxidants like ginger extract and turmeric extract that inhibits pro-inflammatory enzymes and some proteins which have anti-inflammatory properties. Here is the list of some active ingredients and their working:
Boswellia serrata
It inhibits LOX enzymes and blocks leukotriene synthesis. Leukotrienes play a key role in a lot of inflammation related diseases. It also inhibits connective tissue breakdown via tumor necrosis factor-alpha.
Turmeric root extract
It stimulates natural production of histamine-lowering cortisone.
Bromelain
It helps the digestive system to turn complex protein molecules into simpler ones. It is this ability that helps in reducing inflammatory responses.
Ginger root powder
It has protease enzyme and some antioxidant properties that add up to its anti-inflammatory action. Chief anti-inflammatory compounds in it are called gingerols.
Quercetin and rutin NF
Both are plant flavonoids. Quercetin reduces inflammation by agents such as histamines, leukotrienes and prostaglandins. Rutin decreases brain and gut inflammation.
Other Ingredients:
Black pepper extract (piperine), vegetable capsule, rice flour and magnesium stearate.
After reading a user Review of Natural Body Defense Supplements, following are the good and the bad things that can be drawn:
Merits:
All the ingredients are natural
It is safe and effective
Good for a healthy brain and joint functioning
Gluten free
It is anti-aging
De-merits
It is available only online
Some perks on its offers:
3 month supply (buy 2 get 1 free)
6 months (buy 4 months and get 2 months supply free)
All-Natural Anti Inflammatory Supplement
Results

Reduction in inflammation

Ease of use

Safe

Price
My Feedback
I workout twice in a day, not that I need to, but I like working out and I want to remain fit and active. Few months ago, while working out I got my wrist twisted and I got fracture of 1 month. Though, after one month, my wrist was fine. From the very next day I started going to gym again.
I was asked not to lift very heavy weight, but I didn't care and did the opposite. As a result, my wrist started swelling up and it got inflamed eventually. Then, my trainer suggested me to use Natural Body Defense Anti-inflammatory.
I immediately ordered it on his advice and started taking the supplements. Obviously, it took some time as my inflammation was at its worst then. But, it did show results after one month of continuous dosage. Now, I am able to continue my workout again and lift some weight as well. My wrist is improving effectively and I am very happy.