Lifecell Cream- A Review
|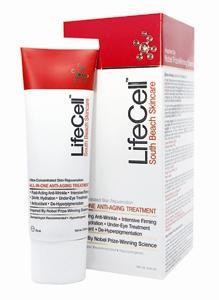 Lifecell with the power of its ingredients can help you get a beautiful, younger looking skin again. Yes, it dries up the skin initially, but that is just to remove the upper damaged layer of skin. It contains powerful age reversing ingredients like D3PA, Ubiquinone, Deanol, Acetyl-Hexapeptide-3 and fractionated Silicon Dioxide.
These ingredients make sagging skin look taut and firm. You can improve fine lines, wrinkles, reduce age spots, redness, crow's feet, puffy eyes, dark circles, frown lines, feather lips, laugh lines and skin dullness with just one cream. Not only this, but the cream also evens out the skin making it look healthy and radiant. It is one cure for all the solutions.
This implies that you don't have to buy different types of creams for different conditions. The results are seen within 17 seconds of its application. There is a money back guarantee in case you don't get the desired results. Lifecell cream reviews from customers around the have shown how effective this cream is for aging skin.
Is Lifecell cream for skin aging really that effective?
Yes, it is one of the most popular tropical solutions for aging skin. It is manufactured by South Beach Skincare Company. Honestly, the active ingredients in Lifecell wrinkle cream deserve all the credit.
This cream has this light reflecting micro-technology in it that makes the wrinkles vanish within a few minutes of applying it. But the effects don't stop here. The long term use of this cream will give a younger looking skin that is free from wrinkles, fines lines, dullness, dark circles and crow's feet around eyes.
It's the patent ingredients that make Lifecell highly effective
Lifecell is a potent blend of water-binding agents, efficacious anti-oxidants and hypoallergenic ingredients. They have been scientifically proven to be effective in zapping years from your age. Your skin not only looks younger but more perky and beautiful with every application.
The Key Ingredients in anti-wrinkle cream from Life cell
Hyaluronic Acid – Hydrates and replenishes the lost vitality of skin. This helps in reducing the wrinkles, fine lines while plumping the skin.
Ubiquinone – is the "Super Anti-Oxidant" that boosts the collagen and elastin production in the body. With time the production of these two naturally occurring molecules that keeps skin wrinkle free and young drops. The instant boost given to skin by the application of this cream gives long-lasting longevity to it.
DMAE (Deanol) – tightens and firms up sagging skin, especially around neck and cheeks. Permanent use of the cream gives a natural lift to the skin.
Retinol (Vitamin A) – Renews and rejuvenates skin from damages that occur due to aging. It is, in fact, the most popular anti-aging ingredient.
Pros
You have the money-back guarantee.
The results are genuinely great and long lasting
Can be easily ordered online.
Cons
A little expensive, but the results prove it worth
Dries the skin initially
No free samples offered
The reviews given by customers for Lifecell cream have been very positive. You can safely use the cream for aging skin.
Get youthful skin back with Lifecell Cream
Elasticity

Results

Moisturization

Efficacy

Clinically tested

Reliability
My Feedback
Aging can be tamed, lest we ensure that the right things are done at the right time. For me, the alarming bells rang when the laugh lines around my mouth became significantly visible. Some of them actually looked too deep. This made me conscious and I started looking for other signs of aging. I noticed fine lines around my mouth, on my forehead and the skin on my hand started loosening up. As if this was not enough, brown spots too started forming on my nose.
This worried me. Since worrying takes you nowhere, I started looking for a solution. Almost everyone asked me go for a face-lift or Botox. They said this was the only long lasting cure. I am strictly against any such painful cosmetic surgeries, because I had heard about the side effects of these treatments. I wanted something more natural, which led me to discover Lifecell cream.
I would be lying if I say that this cream has made me look young again. It is an anti aging cream that works decently well, thanks to its very natural and potent ingredients. This was the primary reason for me to buy it.
Though, initially it made my skin dry, yet something kept made me to hold on to it. Well, I realized it pretty soon that the drying of skin was nothing but the removal of damaged skin that slowly revealed the healthy skin from below. And the best part – I didn't require plethora of creams to deal with other aging issues like puffiness, age spots, crows feet, sagging skin and more. Just Lifecell cream is enough.