Revitol Hair Removal Cream – A Review
|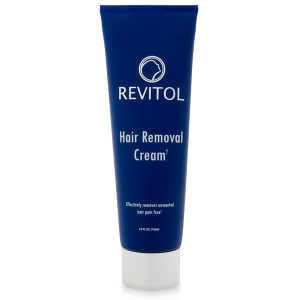 Shaving, waxing, depilators—all these hair removal techniques have its own goods and bads. Shaving gives you those stubbles back just after two days of removing them, waxing is one hell of a task that end up leaving you in pain. Now, you are left with depilators, who knows which one works and which does not. However, this Revitol hair removal cream review, will help you overcome all your hair removing queries.
Hair removal cream from Revitol slows and thins down hair regrowth. As compared to shaving and waxing, the hair growth is much slower, finer and even softer. It means you have to use it just once in two weeks. It is an all-natural and plant based hair removing product that has the ability to remove unwanted hair while making your skin soft and smoother.
Is Revitol hair removal cream all-natural?
Revitol hair removal cream is formulated using advanced and modern technique. Moreover, it is a low irritation formula and can be easily used in sensitive areas because of all natural ingredients–plant extracts and natural moisturizers. The cream also helps you in getting rid off ingrown hair that are otherwise quite unsightly. Unlike other hair removing products that smells quite unpleasant, this cream leaves your skin smelling quite pleasant.
Some of the natural ingredients of Revitol hair removal creams are:
Aloe vera: the aloe vera extract helps rejuvenate skin
Vitamin A and E: Vitamin E and A blends with green tea extracts, thereby softening and smoothening the skin texture.
Other Revitol hair removal cream ingredients are Water, Calcium Hydroxide, Mineral Oil, Petrolatum, Cetyl Alcohol, Stearyl Alcohol, Steareth-20, Peg-75 Lanolin, Glycerin.
Does Revitol hair removal cream have any side-effects?
Because of all the natural ingredients, Revitol can be applied on most body parts, including sensitive areas like upper lips, underarms and bikini line as well. Besides, revitol hair removal cream have really positive effects:
Positives
Low irritation formula
Natural plant extracts and moisturizers
Hair inhibitors slow regrowth
No ingrown hair experienced
Smell Neutral
Advanced modern formulation
Drawbacks
Not available in retail stores, must be purchased online
Not permanent.
Since, this Revitol Hair removal cream review failed to show any drawbacks of the product, you must not over think while buying it.
Better hair removal with Revitol
Inhibits hair growth

Side effects

Skin Friendly

Ease of use

Multiple use
My Feedback
For so many years, I had suffered from embarrassing hair growth on my arms and legs. I tried almost every possible way to remove hair—waxing, plucking and shaving. But, I found that everything left my arms and legs with even more hair growth. Shaving always left my arms very rough and dry and waxing and plucking did not bring any reduction in my hair growth.
After experimenting with so many hair removing products, I found great results with on cream. I was expecting it to be an ordinary, run-of-the-mill depilatory cream. However, I was pleasantly surprised with the results.
In fact, for the very first time I can recommend a hair removal cream as a more convenient and effective option to traditional methods such as shaving and waxing.
I have used well known products such as Veet and Nair. They worked for short time with many drawbacks. Both of these products had a very strong odor that I found repulsive and the chemicals used in them are quite strong. I avoided using them on my legs. Moreover, these products gave me ingrown hair growth.
Revitol hair removal cream on the other hand was quite pleasant to smell. I first applied it on a small patch of my arm for 12 minutes. After I wiped the cream away and rinsed the area with water the hair had gone away, and my skin felt so even and moisturized. I am sure, this is because of the Aloe extract present in it. I started using it on other body parts and results were indeed better than any other creams that I had ever tried.