Dermology Skin Brightener Cream- A Review
|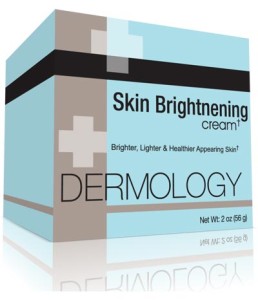 Dermology skin brightener cream is a product made with natural plant based ingredients. This makes it safe, effective and a promising product that gives durable results. The results are seen quickly and they stay for longer. The cream makes skin many shades lighter while stopping the formation of any new skin issues like freckles, age spots, blemishes.
The skin brightener cream from Dermology gets absorbed easily into the skin and doesn't irritate it as some of the other creams available in the market. It makes one look years younger than the actual age.
What does Dermology skin brightening cream claim?
The product promises relief from freckles, blotchy skin, dark patches and liver spots.
How to get the claimed results?
Take a pearl size of the cream and massage it on that part of the face which needs to be lightened. It is not for use near the eyes.
A review of Dermology Skin Brightener ingredients
The product is so formulated that it gives you a healthy and radiant skin without much effort.
Allantoin: A natural moisturizer that makes the outermost dermal layer healthy
Arbutin: A bear berry plant ingredient, it lightens the dark patches of the skin
Evening Primrose Oil: a medicinal oil, it is added to the skincare product to subside dry skin issue, if any.
Grapefruit seed extract: a natural antioxidant here is used as a preservative.
Lumiskin: it lightens the skin texture to give an even-toned skin
Shea butter: tones skin texture and protects it from the sun's harmful rays.
Other Ingredients in Dermology Skin Brightener Cream
Squalene, Vitamin A, Z Whitener, Carbomer, Ethoxydiglycol, Tricaprylin, Glyceryl Stearate, PEG-100 Stearate, Aminomethyl Propanol, Dimethicone, Liposome, Imidazolidinyl Urea, Water.
Reading the customer reviews of Dermology skin brightening cream shed some light on the merits and de-merits. Read them here:
Merits:
Plant-based ingredients
Safe
No adverse effects
Effective
De-merits:
Some people may experience minor irritation. This is due to a personal reaction to a certain ingredient. Largely. it is found to be safe.
The final word
A user review of dermatology skin brightener cream says it all: she used it twice and felt visible changes within two weeks. This prove that the product is effective and lives up to the claims made.
A promising skin brightener cream
Effective

Even Complexion

Ingredients

Reduce dark spots

Skin Radiance
My Feedback
I have had a problem with sun spots ever since I was a teenager. I employed so many techniques to settle the problem but of no use. They only showed slight improvement, by and large these creams were just a waste of money. I only hoped that someday I would find a product that won't be made just to make money but would be effective too.
Luckily, I found Dermology Skin Brightener Cream. What makes it different from others is its ingredients. Most of them are plant based and thus full of antioxidants. It penetrates the skin layers easily. When I saw the results, I knew the product was working and the claim about the addition of plant ingredients was absolutely true.
Now, coming to the results that I have received – the darker areas of my skin have become lighter, including sun spots. I stopped using the cream after a month just to see if the results were temporary or permanent. Luckily, I didn't see any of the above issues coming back. I have started using it again because I want all the spots to vanish completely. Dermology Skin Brightener Cream is a real product which I would want to recommend to everyone who is facing such problems.